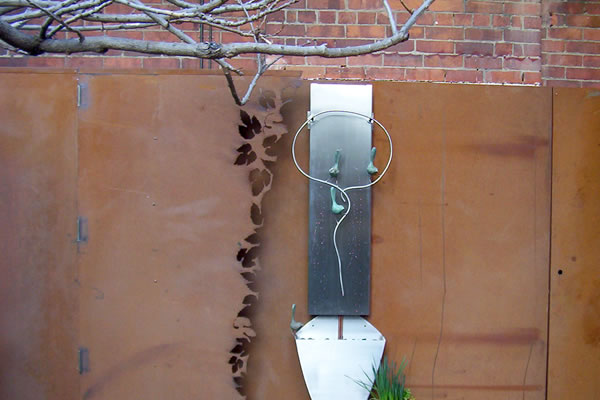 We are able to work with all metals from mild steels and stainless steels in various grades as well as aluminium, brass or copper. Weatherfoil also now carries one of the largest ranges of Corten (COR-TEN®) in Tasmania. We can cut, profile, bend or roll these materials in flat sheet form as well as weld and polish or buff as required. We also work with any of the standard sectional profiles and shapes such as channel, angle, hollow tubes in square, rectangular or round. In many instances we have built from composite materials combining metals with plastics or acrylics, timber or glass. Powder coating, wet spray painting and other finishes can be arranged.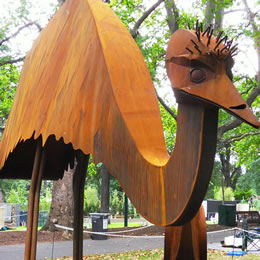 Emu
This 6m high emu was constructed on behalf of local designers Folko Kooper & Maureen Craig; they were commissioned by Villawood Properties to provide the art work for a residential estate. The material used was Corten and the full sized works developed from a 300MM high model and a full scale head fabricated by the designer. Four 1M high Emu chicks were also constructed to complete the works. To assist in transportation and handling the main model was fabricated in five bolt together sections. A temporay base frame was also fabricated to facilitate displaying the complete assembly including the chicks at the 2013 Melboune Fower Show before being moved to the estate.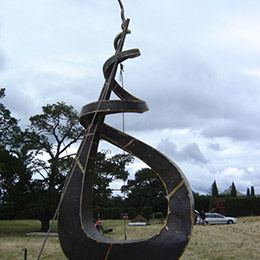 Spire
This 9m spire was also constructed on behalf of designers Folko Kooper & Maureen Craig. The spire also adorns a residential estate and is constructed from Corten. This particular work was developed from an A4 sketch and using computer design technology was transformed to a small paper model before full size fabrication was undertaken. The entire spire is fabricated from flat sheet pattern developments formed and welded into a hollow box section. The many patterns were profiled with CNC plasma using CAD files to ensure maximum accuracy and a true replica of the model.